In the last few weeks, there have been MAJOR changes happening here at Keeper of The Fruit Loops Corporate Headquarters.
Ma-jor.
The first big change is that I actually acquired an office here at KOTFL Corporate.  I guess all the brown nosing to my boss and remembering to keep the copy machine filled with paper finally turned his head.  All those days of getting to work before him and staying until after he left must have made an impression. And let's not forget that my interoffice memos are epic, obvi.  I am certain my new office has *nothing* to do with the fact that I'm sleeping with the boss.  Anyhoo, that's neither here, nor there, really, because you are missing the point:  THIS BLOGGER HAS AN OFFICE.  With a window.  And technically speaking, it's on a corner of our house, er, corporation, so that means I've totally arrived.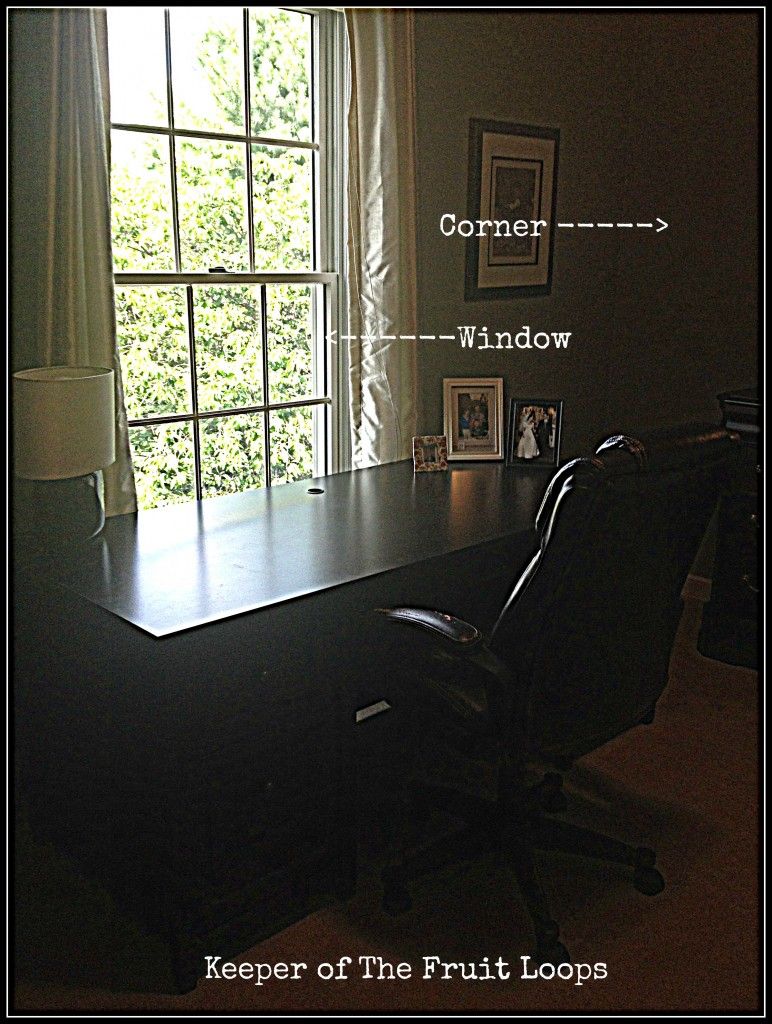 I'm still holding out for a management position, though.  Fingers crossed.  And a raise wouldn't suck either.  Ahem.
The other big bit of news around the KOTFL office water cooler is that my webpage has gotten a facelift.  A total overhaul.  A bonafide website.  I have myself a brandy new, grown up, totes legit site now, thanks to one Julie Deneen of Fabulous Blogging.  And, apparently, I'm told that my domain name was not being used by anyone else…..
SQUUUEEEEEEEEEEEEE!
Sorry, I know people who have corner offices aren't supposed to SQUEEEEEE! but, come on.  Seriously.  Look at this new website.  Isn't it totes gorg????  And I didn't have a SINGLE THING TO DO WITH THE CHANGES.   Because as it turns out, when you go to nursing school, you do NOT graduate with a degree in HTML code.  Go figure.  To take it one step further:  twenty years into your nursing career when you decide to start a blog, it comes as quite a shock when realize you have ZERO web designing skills.  Yeah, sure, I can do cardiac massage and know how to defibrillate a quivering heart but no follow links, SEO and website migration?  Yeah, not so much.
When I started this blog, I A) never expected anyone besides my mom and BFF to read my posts and B) figured no one would notice my preschool attempt at web designing.  Ahem.  Turns out, people noticed.  Specifically, all of my blogging friends.  I'd hear "OMG, I can't leave a comment on your page, WTH??" and "Uh, seriously, why is your website link nine hundred characters long"? and "SERIOUSLY, I WANT TO COMMENT AND I CAN'T".  Or, my personal favorite, "You are still on Blogger?  Aw, that's cute".   They nudged me to "grow up" as a blogger and get a real site.  My own domain, whatever the hell that meant.   They said words like "self hosting" and "permalink" and "othercomputertermsthatIdidntunderstand".  I'd always say, "I know, I know.  Someday.  When I'm a real blogger…." and I'd sneak back to my preschool website and wish it looked more legit.
Enter Julie.  Fabulous Blogging Julie.  Fabulous Blogging Julie who said to me, "Girlfriend, if we don't fix your site before you become really famous, you are going to have a real problem".  And then she told me I wouldn't break my blog and that WordPress is not scary.  She also said that she understood what HTML stood for and that she would talk to the web hosting company so I wouldn't have to sound like the village idiot trying to get an oil change with a side of fries for my website.   Because I'd have probably said those words.  And I'm pretty sure I would have asked them about "dohickeys" and "the thingys at the bottom so people can share my blog on Facebook and The Twitter".  Julie made this blog migration thing a lot less scary.  And she had to wait on hold with the web people, not me.  So there's that, too…..
I'll be honest:  I mostly hired her because she thinks I'll be famous some day.  That, and the whole "she's crazy talented thing" and the "she didn't laugh too hard when she undid the mess I'd made of my old website" part.   But it's a lot because she said "famous".  *Huge* selling point.  She also has an entire website designed to help tech morons like myself actually feel confident enough to install dohickeys and thingamajigs on their blogs.  And, when you raise your hand in class and say, "Uh, Julie, uhm, do what now?" she flashes her megawatt smile and doesn't roll her eyes one single bit.  Oh, and she lets me IM her on Facebook and actually answers my questions, usually within four minutes (I think that's because she knows I'll ask it seventeen different ways so she figures she should just answer me quickly to save her sanity).   I also hired her because she still continues to be friends with me even though I regularly say, "I don't understand the big words coming out of your mouth.  Use smaller words and medical terms if you can".
Did I mention she said "FAMOUS" and my name in the same sentence?  As usual, I digress….
Without further ado, I give you Keeper of The Fruit Loops 2.0!  Now new and improved with something called Jetpack!  And PlugIns!  And a Registered Domain!  I don't know what any of that is but it's super exciting, right???  SQUEEEEEEEEE!!!!!
I hope you'll bear with me as I figure this whole brand new website thing out and that you like the changes we have going on here at KOTFL Corporate…..mostly because I don't know how to undo the changes that have been made and since I haven't gotten that raise yet, I can't really pay Julie much more.
Oh, and PS:  please feel free to leave a comment BECAUSE NOW EVERYONE WHO WANTS TO SPEAK THEIR MIND CAN!!!  SQUEEEEE!  Ahem.  The KOTFL Management LOVES comments….
PPS:  If anyone needs me, I'll be in my office.  My CORNER office, thank you very much.  Hold all my calls, m'kay?