Six years ago, Hubby snapped this picture as I crossed the finish line of the Sunburst National Marathon in Washington, D.C.: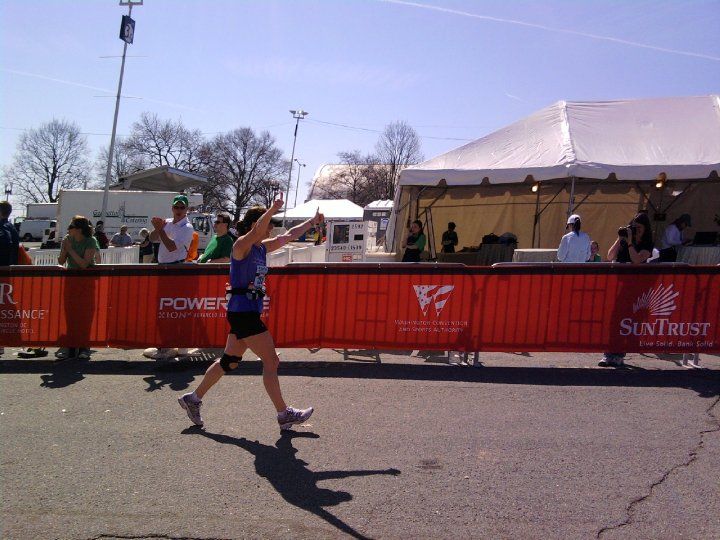 I staggered across the finish line with 4:57 on the clock and I collapsed into a heap of tears and relief.  My Dad, who had traveled from Texas to watch me run my debut marathon, enveloped me in a huge hug and whispered in my ear that my time of 4:57 had appeared in his dreams the night before.  It was the single proudest day of my life.
When I look at this photo, at first glance, I see my arms outstretched in victory, my face balled up in The Ugly Cry.  I can feel the pain in my left knee from a painful hamstring injury that caused every step to feel like a pain of glass was exploding in my kneecap.  I can feel the weight of the fuel belt around my waist and I can remember how chafed my thighs were from those shorts.  And, I still wear that visor on runs in the summer.
But, when I look past the physical memories this photo elicits, I see so much more.  I see the day one of my running friends sheepishly said, "Do you think we could actually do a marathon?".  I recall the night the four of us got together to discuss training plans, running schedules and the feasibility of four young moms with eight kids training for a marathon.  I see sore muscles by the fireplace after new mileage, painful rehab for a hamstring that was unrelenting and chasing my three friends all over our county as we slowly made our way to twenty two miles of training.  I see the day we completed our last training run and wondered, "Are we going to make it all twenty six point two miles?".  I can see the sleepless nights leading up to my big day and the nerves the morning we left to caravan to our nation's capital.
In this picture, I see the early morning arrival to the start line, shivering not from the cold that brushed my arms but from the nerves in my stomach.  I recall the warm gym floor, the feel of the wood on my back as I stared at the ceiling and stretched my aching hamstring.  The sight of other runners who looked like me and those who looked like they would be finished well before I made it to the end.  The smell of the port potties, runners notorious in their pre race calling cards.  The scratch of the gloves I'd planned to discard, the cold of the metal barricade as I pressed against it, waiting.
I can see the sunrise over the District of Colombia, Mile Five resplendent in warm spring sun.  The sight of Hubby and my Dad, holding out bananas and screaming my name, gave me courage.  Mile Ten found me concerned that my hamstring had other plans for our day.  Every step more excruciating, I found temporary solace in a chalkboard sign leaning outside a cafe near Mile Thirteen:  "Pain is temporary.  Pride is forever".  I wanted pride.  Pride would be mine, I hoped.  That, and a bright, shiny medal.
And then, Mile Seventeen descended upon me, it's wrath gripping my resolve.  I had heard other runners whisper about a mythical, devastating "place" occurring somewhere between Miles Seventeen and Twenty.  They called it The Wall and warned me not to succumb to it's challenges.  The Wall, the point where the run almost become too big, too hard to handle, too much to manage.  The place where your body screams for mercy, where your mind plays tricks on you and tells you your training wasn't enough.  The moments when self doubt becomes so loud in your ears that you almost believe what The Wall is screaming.
For me, Mile Seventeen was my Wall.  As I crested a hill, limping, crying, and delirious, I saw Hubby, holding a bright pink sign with my name on it in the bright sun.  As I limped toward him, I started to sob and I begged him to take me home, to let me quit.  Snot running down my face, I yelled at him about my stupidity and arrogance.  As I cried, he deftly started walking and I followed him, eager to convince him to take me to the nearest bar so I could sit down.  Walking became jogging, jogging became running and slowly, we made it to Mile Eighteen where he suddenly turned to me and said, "Move it, Sister.  The only way I'm taking you home is if I see you at the finish".  My coach and cheerleader kissed me, slapped me on the ass and gave me a shove.  And I kept moving.  Somehow, I kept going towards that finish.  Nineteen, Twenty, Twenty One.  Slowly, slowly, the miles collected behind me.
I see Mile Marker Twenty Six and Point Two to go, the moment where I finally let myself believe that I would taste marathon glory.  It was happening:  I was going to make it and all bragging rights would be mine to keep for a lifetime.  Pride, that shiny medal and as much Tylenol as I could stomach was right within my grasp.  I started that morning as a runner but I would end my day as a marathoner.
Twenty Six Point Two done.  A hug from my dad.  The Tears.  Hubby, with a giant grin and the words "Well, it's about damned time, Marathoner" on his lips.  The weight of that hard earned medal on my chest as I posed with pictures next to my friends.
But, beyond ll. other things I see when I look at this photo, the thing I see most clearly is that memories I made for myself and no one else.  I did this for me and I have the picture to prove it.